WESTERN INDIA BIRDING
---
Duration :
15 nights / 16 days
Places Covered :
Delhi - Jaipur -Sambhar Lake - Phalodi - Jaisalmer - Jodhpur - Zainabad - Gondal - Gir - Diu
---
The extremely arid area west of the Aravalli hill range,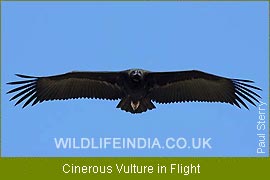 comprising both the salt desert of Gujarat and the sand desert of Rajasthan covers 6.9 % of the country's landmass. The Thar Desert is one of the smallest deserts in the world, but it has a wide variety of habitats and biodiversity. Some 250 to 300 species of birds have been reported from this area. Some of the important species to be seen are highly endangered Great Indian Bustard, the migrant Houbara Bustard, various species of Sandgrouse, raptors, wheatears, larks, pipits & munias. Rann of Kutch acts as important breeding ground for both Greater and Lesser Flamingo's.


Day 01: Arrive Delhi
Arrive Delhi late in night and transfer to hotel for overnight stay.


Day 02 : Delhi
Morning start the city tour of Delhi covering both Old and New Delhi.


Day 03 : Delhi / Jaipur
Morning leave for Jaipur (4 hrs) on way visit Amer Fort. Later transfer to hotel. Afternoon tour of Jaipur visiting the City Palace, The Observatory, The Palace of Winds etc. Overnight at the hotel.
Day 04 : Jaipur /Sambhar Lake Lake / Phalodi
Morning leave for Sambhar Lake Lake - birding at Sambhar Lake, the biggest Salt lake in India We may be able to see many varieties of Water birds like -
Flamingos, Coots,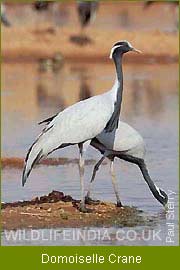 Pelicans, Spoonbills, Whistling teals, Mallavds, Pochards, Shovellers, Cormorants, Snake birds, Pintails, Pochards, wadders, dabchick etc and many land birds like- Indian Roller, Tailor birds, Kingfisher, Buntings, Chat, Minivets, Tits, Sunbird, Dove,Grey Partridge, Bee-eaters, Common Cranes, Domoiselle Cranes etc. Late afternoon leave for Phalodi. On arrival transfer to the palace hotel for overnight stay.


Day 05 : Phalodi
We will spend early morning and evening looking Domoiselle Cranes that come to feed outside the village. Overnight at the hotel.
Day 06 : Phalodi / Jaisalmer
Morning drive to Jaisalmer enroute brief stops for birding. On arrival transfer to hotel. Evening visit Sam for sun set view at the Sand Dunes.


Day 07 : Jaisalmer
Full day excursion of Desert National Park:Desert National Park is located 27 miles west of Jaisalmer contains a number of species of fauna and flora, quite remarkable to Desert region. In fact much of this 1280-square mile park consists of rolling sand dunes with its own characteristic trees and flower. In its arid grasslands you can see chinkara, blackbuck, nilgai, wolf and desert cat. There is also wide range of birdlife including spotted eagle, kestrel, lanner falcon, sand grouse, desert courser and great Indian Bustard. Overnight at hotel.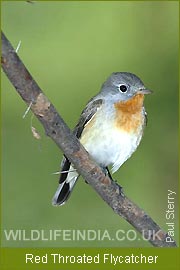 Day 08 : Jaisalmer / Jodhpur
Morning leave for Jodhpur enroute stoppages for birding. Afternoon city tour of Jodhpur visiting the impressive Mehrangarh Fort and the royal Cenotaphs. Overnight at the hotel.


Day 09 : Jodhpur
Morning excursion to the Bishoni Villages to see Blackbuck Antelope and Chinkara (Indian Gazelle) and some other desert Birds while waiting at Waterholes.
Overnight at the hotel.
Day 10 : Jodhpur / Zainabad
Morning drive to Zainabad. Arrive late evening at the Rann to stay at Desert Coursers Camp- a rustic property located next to a village lake.


Day 11: Zainabad
Full day birding at the Rann of Kutch Sanctuary. Typical birds to be seen at the Rann are Lesser Flamingoes, the Greater Flamingoes, White Pelicans, the Dalmatian Pelicans, Small Pratincoles, Temminck's Stints, Greater Spotted Eagle.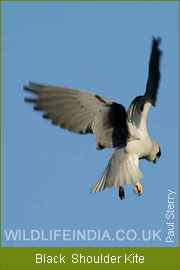 Evening watch Chestnut-bellied Sandgrouse at waterholes. Lucky few can spot the elusive Macqueen's Bustard and Indian Courser. Other rare and endangered animal to be seen is the Wild Ass also known as Gudkhars in the local language and Indian gazelle, wolf, jackal, Indian and desert foxes, desert and jungle cat.
Day 12 : Zainabad
Another day at Zainabad looking for birds not seen on the first day. In a walk next to the lake the typical birds which can be seen are Blyth's Reed, Bluethroats, Temminck's Stint, Shoveler, Black-winged Stilt, Little Ringed Plover, Common Sandpiper and a Citrine Wagtail. In the cotton field a slight distance away one can watch Montagu's Harrier flying over the fields. Afternoon excursion in the Rann can be rewarding by the sights of Nilgai, Wild Ass, Hoopoe, Pied Kingfisher. In the creeks numbers of White Pelicans, Painted Storks, Spoonbills, Teals, Shoveler and occasional Shelduck, In the scrubs Rufous-tailed and Greater Short-toed Larks. Overnight at the camp.


Day 13 : Zainabad / Gondal
Morning drive to Gondal. The stay will be at the Royal Palace. Afternoon birding at the grassland and lakes surrounding the royal palace.
O/n at 11 room Riverside Palace or 7 room Orchard Palace.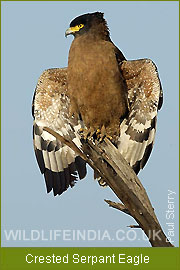 Day 14 : Gondal / Gir
Morning drive to Gir ( 3-4 hrs). On arrival transfer to the Gir Lodge. Afternoon excursion in the Gir National Park the abode of the Asiatic lion,Leopard, sambar, spotted deer, blue bull, 4-horned antelope, Indian gazelle,etc. Crested hawk eagle, crested serpent eagle, bonneli's eagle, paradise flycatcher, treepie, blossom headed parakeet, are among the many birds seen.
O/n at The Gir Lodge.


Day 15 : Gir
Morning and evening excursions in the Gir National Park. O/n at the lodge.


Day 16 : Gir/ Diu
Morning drive to Diu to take flight to Mumbai. On arrival transfer to the International Airport for flight back home.
WESTERN INDIA BIRDING RESERVATION FORM