KANHA NATIONAL PARK

| | | |
| --- | --- | --- |
| Location of Kanha | : | Mandla & Balaghat Districts, Madhya Pradesh |
| Nearest Access to Kanha | : | Mandla * Balaghat |
| Coverage Area of Kanha | : | 1,940-sq-kms. |
| Climate of Kanha | : | Winter : varies between11°C and 24°C, Summer: 23°C - 40°C |
| Major Wildlife Attraction in Kanha | : | Tigers, Leopard, Gaur, Barasingha, Dhole |
| Best Time to Visit Kanha | : | November 15 to June 15. |
About Kanha National Park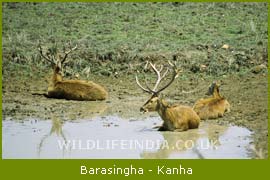 Situated in the Indian state of Madhya Pradesh, the picturesque Kanha National Park was the inspiration behind Rudyard Kipling's unforgettable classic Jungle Book .Over 1,940 sq km of bamboo thickets, extensive grasslands and dense sal forests make up Kanha- a series of plateaus which stretch across the eastern segment of the Satpura ranges in Madhya Pradesh
One of the largest wildlife reserve in Asia, Kanha National Park was one of the first Project Tiger reserves in India. It is, in many ways, Project Tiger's biggest success story, with the tiger population having doubled since 1976.
Major Wildlife Attractions – Kanha
The Park was created in 1955 by a special law and, since then, it has dedicated itself in preserving a variety of animal species. Many endangered species have indeed been saved here. Today Kanha is among the few most scenic and beautiful wildlife reserves in Asia. The park was declared a tiger reserve in 1974, when the Project Tiger was launched. This 'Tiger Country' is the ideal home for both predator and prey.
The main wildlife attractions in the park are tiger, gaur, wild dogs, chousingha, nilgai, sloth bear, sambhar, chital, hard ground barasinga-(12-horned deer), barking deer, hyena, jungle cat and leopard.
Kanha is also avian heaven with birds like Racket-tailed drongo, Magpie Robin, two species of hornbill seen in large numbers. During winters Kanha has large number of migratory birds such as Common Pochard, Lesser Whistling Teal and Blacj Stork. Raptors like Shikra, Honey Buzzard, Sparrow Hawk, lesser Kestrel, Crested serpent eagle, Crested Hawk can also be seen in the park along with vultures like Long-billed and Scavenger Vultures.
Other Attractions In and Around Kanha National Park
Inside the Kanha National Park is a vantage point "Bamni Dadar" to get a bird's eye view of the National Park. The sunset from this spot is mesmerizing. The Kanha National Park is at it scenic best at this point.
Kanha Museum inside the park is quite an interesting place to understand the flora and fauna of the park.
Wild Safari in the National Park
One can undertake the safari in the National Park in open 4x4 jeeps in early morning and in the afternoon. A forest department guide is always there with the visitors on these jeep trips taken inside the park. Elephant are primarily used for trekking the tiger in the mornings and a visitor can avail of the elephant ride during the Tiger Show subject to the availability of the Elephants.
Park Visitation Timings
1. 15 November to 15 February - Sunrise to 12.00 noon and 3.00 pm to Sunset
2. 16 February to 30 April - Sunrise to 1200 noon and 4.00 pm to Sunset
3. 1 May to 30 June - Sunrise to 11.00 am and 5.00 pm to Sunset
How to reach Kanha National Park
Air :
Nagpur is the nearest airport. and is connected by various domestic airlines with Delhi, Mumbai, Raipur & Kolkatta.
Road :
Kanha National Park is connected by road with Jabalpur 175-kms, Khajuraho 445-kms, Nagpur 266-kms, Bandhavgarh 210-kms, Raipur219-kms.
Rail :
Jabalpur(175km) and Gondia (125 km) are two convenient railheads to visit Kanha.
SUGGESTED TOURS
»
Kanha Weekend Getaway
»
Kipling's Tour
»
Tiger Special Tour
»
Grand Tour of Tigerland
SUGGESTED RESORTS
»
Royal Tiger Resort
»
Krishna Jungle Resort
KANHA NATIONAL PARK RESERVATION FORM