DUDHWA NATIONAL PARKS

| | | |
| --- | --- | --- |
| Location | : | Uttar Pradesh |
| Nearest Access | : | Palia |
| Coverage Area | : | 490-sq-kms. |
| Climate | : | Winter : varies between20°C and 30°C, Summer: 19°C - 40°C |
| Major Wildlife Attraction | : | Bara singha or Swamp deer, Chital, hog deer, barking deer, Sambhar , Wild boar, Jackal, Tiger, Leopard, Rhino. |
| Best Time to Visit | : | October to April |
Dudhwa National Park
About Dudhwa National Park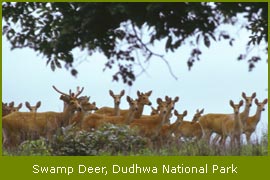 Situated in the foot hills of Himalayas in the terai region, the Dudhwa National Park, which is also a Tiger Reserve, is a relatively new entrant in Project Tiger.
Dudhwa's terai vegetation comprises of savannah grasslands interspersed with forests consisting of trees such as Jamun, Shisam, Silk Cotton tree, Khair etc.
This park hosts the highly endangered Soft Ground Barasingha, the other deer species found here are Chital,Sambhar , Barking deer and the hog deer. The main predators found are Tiger and Leopard along with the lesser ones like the Fishing cat, Jungle cat and the Leopard cat. One can also see the marsh crocodile on the banks of the two rivers flowing through this park. This park also has quite a few numbers of highly endangered Hispid hare whose population is dwindling due to destruction of its habitat.
At one time this park used to have a sizable population of the Indian One-Horned Rhino's, but with constant poaching their population was wiped out. However, in the year 1985 an attempt was made to re-introduce rhino in this area once again and with constant efforts a small population of Rhino's now exists. Occasionally herds of Indian Elephants can also be seen while migrating between Dudhwa and Nepal's Sukla Phanta and Royal Bardia wildlife sanctuaries.
Dudhwa also hosts a sizable population of bird species with many migratory birds using this park as nesting ground. The 400 species of birds here include the great Indian horned owl, the forest eagle owl, the brown fish owl, the tawny owl, the dusky horned owl, the scops owl, brown wood owl, the jungle owlet, many species of stork, as well as the woodpecker, oriole, pitta, kingfisher, minivet and sunbird
Wild Safari In the National Park
Jeeps and mini buses can be hired from the Park. Elephant rides through the Park are also available.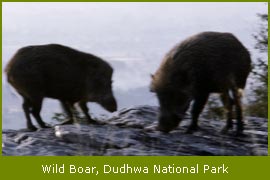 How to be at Dudhwa National Park
By Air :
The nearest airport is Lucknow, connected to many places in India including Delhi and Mumbai by regular flights
By Rail :
The nearest railway stations are Dudhwa 4 km, Palia 10 km, and Mailani 37 km. Dudhwa, on North-Eastern Railway meter gauge section is connected via Mailani to Lucknow & Kathgodam
By Road :
Dudhwa is connected by metalled road to other parts of the state. Important road distance are;
• Lucknow 238 km
• Bareilly 260 km
• Delhi 430 kms
• Palia 5 kms.
SUGGESTED TOURS
»
Wild Wonders of North India
SUGGESTED RESORTS
DUDHWA NATIONAL PARK RESERVATION FORM