GIR WILDLIFE SANCTUARY AND NATIONAL PARK
| | | |
| --- | --- | --- |
| Location of Gir | : | Gir, 42-kms From Junagadh, Gujarat |
| Nearest Access to Gir | : | Junagadh (42-kms) |
| Coverage Area of Gir | : | 1412.13-sq-kms. |
| Climate of Gir | : | Winter : varies between7°C and 15°C, Summer: 33°C - 45°C |
| Major Wildlife Attraction in Gir | : | Asiatic Lions, Leopards,Sambhar , Chital, Nilgai, Chowsingha |
| Best Time to Visit Gir | : | November to June |
Gir Wildlife Sanctuary and National Park
About Gir Wildlife Sanctaury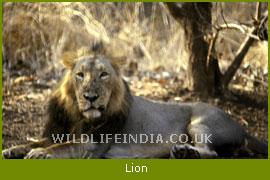 The Gir National Park last stronghold of the Asiatic Lion was the former private reserve of the Princely State of Junagadh. It was due to the efforts of the rulers of Junagadh that the last remaining population of this small pride of around 20 lions was saved from extinction. Today they are four independent populations of Asiatic Lions in and around Gir totaling around 275.
The park's vegetation consists of Dry Teak and deciduous forest of Banyan, Jamun and Flame of Forest as well as scrub of Acacia. Gir's ecosystem nurtures over 450 species of plants, around 350 species of birds, 32 mammal species and around 24 types of reptiles. Besides lions the park has a sizable population of Leopards with prey species like Chital,Sambhar , Blue Bull, Chausingha, Chinkara and Wild Boar. The smaller carnivores are Jungle Cat, Jackal and Striped Hyena.
The park is quite rich in bird life and Paradise Flycatcher, Black-headed Cuckoo, Grey Drongo, Pied Woodpecker, Coppersmith, Indian Roller, Crested Swift, Fish Owl, Shaheen Falcon, and Bonelli's and Crested Serpent Eagle are some of birds seen on the trees. On the forest floor one can see Painted Sandgrouse, Rock Bush Quail, Grey Partridge.
Another area that can be visited is the Dhangadhra Wildlife Sanctuary near Little of Rann of Kutch. This vast saline wasteland of Rann of Kutch is the only home of highly endangered Asiatic Wild Ass. Other animals that can be seen in this area are Nilgai (Blue Bull), Blackbuck, Chinkara (Indian Gazelle), Desert Cat, Desert Fox and extremely rare Indian Wolf.
How to reach Gir Wildlife Sanctuary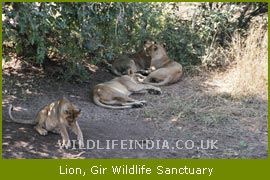 Air : The nearest airport from Gir is Keshod 90-kms. Or Diu 100 kms. From Mumbai there are daily flights to these two destinations for reaching Gir.
Rail : The nearest rail connection is at Veraval (45 kms) on the main line from Ahmedabad.
Road : Gir is easily accessible by road from Diu, Rajkot and Ahmedabad.
Tour Packages of Gir Wildlife Sanctaury
SUGGESTED TOURS
»
Gir Weekend Gateway
»
Jewels of the West
SUGGESTED RESORTS
GIR WILDLIFE SANCTUARY AND NATIONAL PARK RESERVATION FORM