GRAND TOUR OF TIGERLAND

---
Duration :
18 nights / 19 days
Places Covered :
Delhi - Nagpur - Kanha - Bandhavgarh - Khajuraho - Agra - Bharatpur - Jaipur - Delhi - Guwahati - Kaziranga - Guwahati - Delhi
---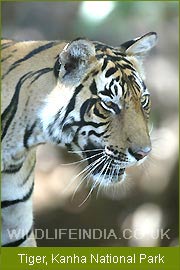 This itinerary offers the best of India to see the big five Tigers, Gaur, Elephants, Rhinos, and Buffalo. The itinerary take you through the Cultural Golden triangle visiting Delhi Jaipur and Taj Mahal at Agra and also the Bird Paradise- the Keolodeo National Park - A water Bird sanctuary. It visits the best Tiger reserves where one can see tigers from elephant back and 4 x 4 vehicles and the Wet savana of the east which offers a spectacular experience of seeing the Prehistoric looking armored Great Indian One horned Rhinoceros. Also seen are wild elephants and the water Buffalo which large heads.
Day 01: Delhi
Late evening arrive Delhi. Meeting and assistance on arrival and transfer to Hotel for overnight.
Day 02: Delhi - Nagpur - Kanha
Early morning transfer to airport for flight to Nagpur 0555/0845.
On arrival drive to Kanha National Park ( 7 hours drive). On arrival Transfer to the resort.
Afternoon free. Meals and overnight at the resort.
Day 03: Kanha
Morning Jungle excursion to Kanha National Park by Jeeps and elephants.
Wildlife activity is at its height early in the day. To make the most of our time, tea and coffee are served each morning before departing. We have breakfast later in the field. Set on the Chota Nagpur Plateau, Kanha provides breathtaking vistas of grassy plains and stands of mixed sal/teak forest. The many streams are edged by large grovesof willowy bamboo. This vast 1000 sq Km preserve was not only set aside to protect the tiger, but to save the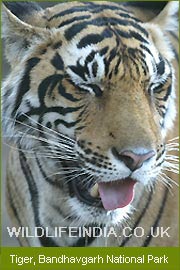 endangered barasingha as well. These beautiful deer are spectacular to watch as they graze in the forest meadows. In addition, Kanha is one of the best places in the world to view the secretive Indian Guar( Commonly Indian Bison) which is the largest cattle in the world and the rare Dhole or Indian Hunting Dog. While in Kanha, wildlife viewing is done from open 4x4 Open Vehicles and elephants. During breakfast each day, our guide finds out if and where the mahouts have spotted tiger. We then wait our turn to view the tiger by elephant back. We return to the resort each day for lunch, then return to the park mid-afternoon for additional game viewing opportunities.
Meals and overnight at the wildlife resort.
Day 04: Kanha
Morning and evening Jungle Safari by 4 x 4 vehicles and Elephants. Meals and overnight at the resort.
Day 05: Kanha - Bandhavgarh
After breakfast, we board our vehicles for a drive to Bandhavgarh National Park ( 7 hours drive) . Our drive takes us through rural countryside and colorful towns and villages. En route, we have a picnic lunch, and arrive at the Bandhavgarh National Park. On arrival checking into wildlife resort Dinner and overnight at the resort.
Day 06: Bandhavgarh
Set among the Vindhya Hills in the state of Madhya Pradesh, Bandhavgarh consists of 800 sq kms of sal and mixed forest with large stretches of bamboo and grassland to the north. There is a dramatic natural fort at the park's center, 1,000 feet above the surrounding countryside. In addition to tigers, we hope to see gaur (Indian bison), chital, and chausingha (four-horned antelope). There are some 150 species of birds here including blue-bearded bee-eaters and white-browed fantails, and the Malabar Hornbill. Wildlife viewing is by open 4x4 Open Vehicle and elephant back.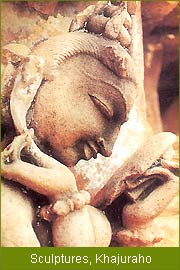 Boarding elephants is easy, and the cushioned platforms are very comfortable. Since most animals, including tiger, have little fear of elephants or the people mounted on them, this mode of transportation is ideal for wildlife viewing. There are morning and afternoon wildlife excursions each day and we have the option to visit the fort. A 35-foot statue of the reclining Vishnu, resting beside a rectangular pool of spring water, head the path to the imposing main gate. In addition to 10th century rock images of the incarnation of Vishnu, Bandhavgarh Fort offers breathtaking views and excellent game viewing.
Day 07: Bandhavgarh
Morning and evening Jungle excursion to the National Park. Meals and overnight .
Day 08: Bandhavgarh - Khajuraho
Morning Jungle excursion. After breakfast leave for Khajuraho (7 hours drive). On arrival Transfer to Hotel.
Evening free. Overnight.
Day 09: Khajuraho - Agra

Morning tour of the Western Group of Temples. Located on the central Indian plains, Khajuraho is home to a variety of many inspirational temples, including superb examples of Indo-Aryan architecture celebrating the pleasures of life and the sublime joy of love. We tour the magnificent temples and view the exuberant carvings.
Afternoon we drive to Jhansi to take Shatabdi Express for Agra. On arrival Transfer to Hotel for dinner and Overnight.
Day 10: Agra - Bharatpur
Morning city tour visiting the Taj Mahal. Built by the mighty Shah Jahan, the Taj is constructed of white marble inlaid with masterfully cut colored stones, some semi-precious. This mausoleum is one of the world's finest architectural wonders and the greatest monument to love ever built. and then visit the stunning Agra Fort. This massive ruin, however, is soon overshadowed by Taj Mahal.
After Lunch we leave for Keoladeo National Park, Just 60 Km away however stopping midway at Fatehpur Sikri (Victory City). Built in 1569, the buildings, tombs, and palace are remarkable.
We arrive this evening at a hotel where we spend the next two nights. Keoladeo Ghana is the site of a large marsh created in the 1700's by the Maharajah of Bharatpur for the purpose of putting on extravagant duck hunts. Today, the sanctuary is a World Heritage Site. Over 400 species of birds have been recorded within the 30-square kilometer reserve. It is not uncommon for birders to see more than 100 species in a day. We soon leave for a short glimpse of the National Park. After briefly exploring the National Park, we return to the hotel after sunset for dinner and overnight.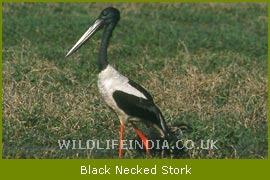 Day 11: Bharatpur
We proceed to the reserve at daybreak. Searching first in flat-bottomed boats and then via bicycle rickshaws, we explore this avian spectacle. The birds seen are as colorful as their names - pintail ducks, red-crested pochards,, and open-billed, painted, and black-necked storks. Watching the fishing activities of the handsome pied kingfisher, common kingfisher, Purple heron and the sleek darter provides engaging moments. Also commonly seen are eight species of eagles and several species of falcon including the peregrine. In addition to birdlife, the park is well known for the opportunities it provides to observe Indian python, Indian porcupine, fishing cat, Indian civet, and three species of mongoose. Sambhar and Chital Deer and Nilgai and Black buck are common antilopes found in the park. We return to the lodge for lunch, after which we are free to set out on our own to observe and photograph wildlife.
Day 12: Bharatpur - Jaipur
After a last morning excursion at Keoladeo, we enjoy breakfast and then head out for our journey to Jaipur ( 5 hours drive). On arrival Transfer to Hotel. Afternoon free.
Day 13: Jaipur - Delhi
Morning city tour of Jaipur. Afternoon drive to Delhi en route visiting Amber fort.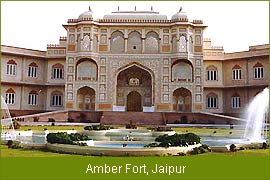 Morning city tour of Jaipur visiting city Palace where one can see the worlds largest silver object. The museum has very fine collection of Persian and Indian miniature paintings and displays of costumes and arms and armors. We also visit the Jantar Mantar ( Observatory ) -literally instruments for measuring the harmony of heavens. A stunning example of sophistication of knowledge of Astronomy 300 years ago with instruments built in grand scale in marble to precision to two seconds. After excursion to Amber Fort where we ascend the fort on elephant back. This was the ancient capitol of the Kachhawaha Rajputs from 1037 until Sawai Jaisingh II planed and build the new city Jaipur 1727. At the fort we visit the Palace complex which house the famous halls for inlayed convex mirrors. Later drive on to Delhi ( 5 hours drive). On arrival Transfer to Hotel for Dinner and overnight.
On arrival Transfer to Hotel for Dinner and overnight.
Day 14: Delhi - Guwahati - Kaziranga
After breakfast, we connect with a flight to Gauhati 1010/1225 in the far eastern state of Assam. Our drive from the city of Gauhati takes us east along the great and wide Brahmaputra River. It becomes apparent quickly that the people of Assam have a more pronounced Oriental influence than anywhere else we've visited. Assam is the biological crossroads for the flora and fauna of the Malay Peninsula, China, Himalayas, and the Indian subcontinent.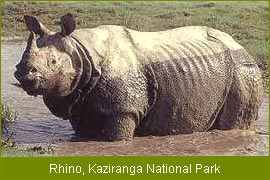 Here, the forests are primarily tropical evergreen rather than the deciduous type found in dryer areas. Our destination this afternoon is Wild Grass Lodge, our accommodation for our last three nights in the Indian bush. Kaziranga National Park is 470 square miles, centering around bottomlands covered by elephant grass savannahs. In the hills and along the small streams, dense forests grow with epiphytic orchids and ferns jutting from the trunks and branches of the great trees. Kaziranga was set aside to protect the great one-horned Asian rhinoceros. It is estimated that there are now less than 1,400 of these great beasts left in the wild, and more are found here than anywhere else. The thrill of breaking into a clearing on elephant -back and coming to within a few yards of one of these gray armored hulks is truly exhilarating. Wild Asian elephant herds are present within the grasslands of the park, as are large herds of barasingha, hog deer, and wild Asian buffalo. Bird Life is also very distinct and colorful such as rose breasted Parakeet, Kalij Pheasant, emerald dove, Imperial Pigeon, swamp francolin are come of the birds. Each evening we overnight at Wild Grass Lodge after full day's of exploring this magnificent wildlife spectacle.
Day 15-16: Kaziranga
Morning and evening jungle excursions by elephants and 4 x 4 vehicles explore the wonderful wet savanna of Kaziranga. Also visit the Tea Garden and walk though the Assames Village and see some silk weaving and silk moths.
Day 17: Kaziranga National Park - Guwahati - Delhi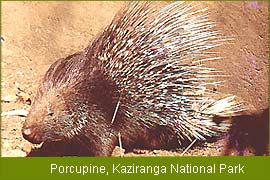 A morning departure from Kaziranga for Guwahati, we board our mid-afternoon flight to Delhi 1410/1635.
On arrival transfer to Hotel Claridges. Evening free. Dinner and overnight at the Hotel.
Day 18: Delhi
Full day City tour of Old and new Delhi. Our most unique visit of this great capital begins with New Delhi, passing through elegant President House, India Gate then Rickshaw ride through old Delhi 's colorful shopping bazaars. Starting at the imposing Jama Majzid , India's commercial heart of the city, passing a multitude a brightly bedecked stalls where Indians buy everything from wedding jewels to spices, silk brocade to sweets , This is a true insider's look at real India. In the afternoon we explore the city's other prime highlights; the Tomb of Mughal emperor Humayun, believed to have served as the model for Taj Mahal; the 234-ft-high, 12th -C. Qutub Minar and Gandhi's Memorial.
Meals and brief overnight at the Hotel.
Day 19: Delhi - Onward
Early morning transfer to airport for flight to Onward destination.
GRAND TOUR OF TIGERLAND RESERVATION FORM