ADVENTURE TOURS - ( Kanchanjunga )
Kanchanjunga Trek (Mount Khangchendzonga)

Kanchanjunga Trek Duration : 12 nights / 13 days
Places Covered : Yuksom - Tsokha - Dzongri - Thansing - Samithy Lake - Goechala -kokchurung - Dzongri - Tsokha - Yuksom

Kanchanjunga Trek (Fixed departure: 01 April, 22 April, 6 May, 30 Sep, 21 Oct, 4 Nov, 18 Nov)

The Khangchendzonga National Park Trek: West Sikkim.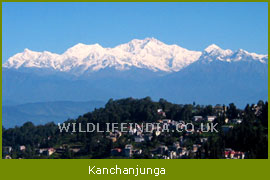 Sikkim situated in the eastern Himalayas lies between India and Tibet and is bound by Nepal, Bhutan and West Bengal. Sikkim comprises some of the most dramatic geological and topographical features. This is a land of high mountains, monasteries, orchids, butterflies, dense forests and clear streams that makes it perfect trekking country. Bird life is prolific and wild alpine flowers grow in profusion. This tiny state of India has some of the finest mountain scenery in the world as can be seen on the trek into the Kanchenjunga group, the third highest mountain in the world.
This is undoubtedly the most popular trek in Sikkim. The trek goes through moss-laden forests, abounding in a variety of flora and fauna, through scenarios of grazing yaks, mountain sheep and Tibetan resettlement villages. The trail leads through some of the most spectacular forested areas of Sikkim particularly beautiful during the spring when the rhododendrons, giant magnolias and a profusion of other wildflowers are in full bloom. At Dzongri one comes face to face with a magnificent view of Mount Kanchenjunga, which, to the Sikkimese, is an all-powerful God. The mountains are at their tantalizing best-a sharp shower and the clouds lift for a few minutes to reveal the steep south face of Mount Pandim. Sometimes at dawn the sky is clear and the entire chain of peaks is visible.
Seasons for Kanchanjunga Trek : October-Mid December and March to Mid May
Day 01 Arrive. Delhi
Meet on arrival and transfer to hotel.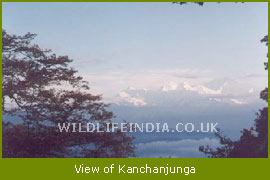 Day 02 Delhi/Bagdogra/ Gangtok:
Morning transfer to airport to board flight to Bagdogra. Meet on arrival at Bagdogra and drive to Gangtok. On arrival transfer to hotel.
Day 03 Gangtok/Yuksom
After breakfast drive to Yuksom with packed lunch - 1780m (6-7 hrs drive) via Singtam, Rabongla & Tashiding. On arrival transfer to hotel for overnight stay.
Day 4 Yuksom/Bakhim/Tsokha
Morning start trekking to Bakhim - the trail runs through rich jungle abounding both in flora and fauna. The trail crosses four bridges about 50 minutes apart from each other. From the fourth bridge the trail climbs steeply to the north-west for an hour to the forest rest house at Bakhim. Continue on the trail, passing Bakhim behind Bakhim bungalow and climb in a north-westerly direction through forests of Magnolia and Rhododendron for about an hour to Tsokha. Overnight at fully-serviced camp or halt at the trekker's hut.
Overnight camp at 3050m.
Day 5 Tsokha/Dzongri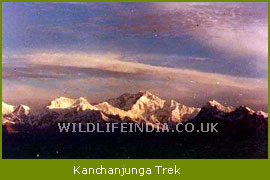 Climb through the gullies to Tsokha - a settlement for Tibetans and the last village to be encountered on the way. Later a wooden plank path leads through different varieties of rhododendrons and firs draped in moss to Phidang meadows and further to the ridge decorated with prayer flags. This point affords a panoramic view of Kanchenjunga range. The trail descends towards North-West from Mon Lepcha before climbing North again and the Dzongri trekker's hut soon comes into view. Phidanfg to Dzongri is approx 4 hours walk. Overnight at fully-serviced camp or halt at the trekker's hut at 4030m..
Day 6 Dzongri
Rest and acclimatization at Dzongri
Today we climb the hill above the Bungalow referred as Dzongri Top or Black Peak. In the afternoon one can take a short climb up to Dablakhang-the ridge with four chortens. Overnight at fully-serviced camp or halt at the trekker's hut.
Day 7 Dzongri/Thansing (3800 mtrs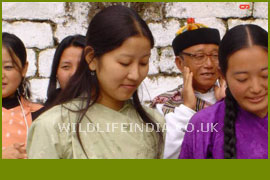 The trail starts from Dzongri bungalow and takes the right trail, which passes the building and then climbs east up along the right bank of the river. After cresting the hill the path drops into the valley and then crosses a bridge over the Prek Chu River. Thansing , an hour's climb due North from the bridge, is located below the slopes of Mount Pandim. Overnight at fully serviced camp or halt at the trekker's hut.
Day 8 Thansing /Samithy/ Lamune
Today is a leisurely trek of about 3 hrs to Samithy Lake. The first half is gradual climb alongside a milky stream across high grasslands, breaking into steeper slopes at a yak herder's hut. Hopping on moss covered boulders, reach the shore of emerald colored Samithy Lake at 4200m. We will overnight at a site, which is a km down from the Samithy Lake at LAMUNE. Overnight at fully serviced camp or halt at the trekker's hut.
.
Day 9 Samithy Lake/ Goechala (5002mts) / Kokchurung (3800mts)
The climb to Goechala begins with gentle gradient eastwards for about half an hour and then the real climbing starts. The trail follows the glacial moraine north-east and then drops to a dry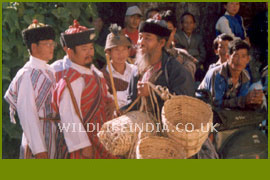 lake at Zemathang. A rough scramble over rocks and boulders with a rise of about 400 mtrs will bring the trekkers to the top of the pass. The pass is formed by a depression between Pandim and Kabru spurs, overlooks Tallung valley and commands a very impressive view of Mount Khangchendzonga. Trek back tokokchurung via Thansing and Dzongri. Overnight at fully serviced camp or halt at the trekker's hut.
Day 10kokchurung -Tsokha
6 hours down hill trek. Overnight at fully serviced camp or halt at the trekker's hut.
Day 11 Tsokha-Yuksom
5 hours easy down hill trek. Overnight at Tashigang Hotel.
Day 12 Yuksom / Darjeeling
Drive to Darjeeling- a city discovered by British in 1829. Day free to relax or an optional tour of Darjeeling can be organized covering the Mountaineering Institute, The Zoological Park and The Botanical Garden. Overnight at Hotel
Day 13 Morning drive to Bagdogra to take flight to Delhi
Morning drive to Bagdogra to take flight to Delhi. On arrival and transfer to hotel for wash and change (day room). Late evening transfer to the International Airport for onward flight.
---
:: Click Here For Kanchanjunga Trek Booking / Information ::
---