KAZIRANGA NATIONAL PARK

| | | |
| --- | --- | --- |
| Location of Kaziranga | : | Bokaghat (23-kms), Assam. |
| Nearest Access to Kaziranga | : | Jorhat (2 hrs) |
| Coverage Area of Kaziranga | : | 430-sq-kms |
| Climate of Bandhavgarh | : | Winter : varies between5°C and 25°C, Summer: 7°C - 37°C |
| Major Wildlife Attraction in Kaziranga | : | One Horned Rhinoceros, the Asiatic Elephant, the Asiatic Wild Buffalo, and the Royal Bengal Tiger. |
| Best Time to Visit Kaziranga | : | November to April |
About Kaziranga National Park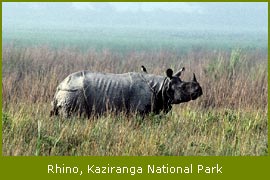 Kaziranga National Park in Assam India, is best-known as the home of the Indian Rhinoceros, declared a World Heritage Site, by UNESCO in 1985, Kaziranga National Park lies in the flood plains of the Brahmaputra River, and is flat country with elephant grass and shallow swamps interspersed with large patches of semi-evergreen forest. It is bounded by the Mikir Hills on the South and the Mighty Brahmaputra river on the north
Major Wildlife Attractions:
Welcome to the land of Rhinoceros Unicornis. The great Indian one-horned rhino, more than two tons of frightening muscle and tank-like belligerence. With its armour-plating hide and its 24" long horn- which really isn't a horn, but compressed hair- is the major attraction of Kaziranga. Kaziranga is also one of the world's biggest conservation success stories - from 12 rhinos in 1908 to 1,700 This has put Kaziranga on the top of the world conservation map.
Apart from being the home of the one-horned rhino, Kaziranga is also the natural habitat of wild buffaloes, Asiatic Elephant, Indian Bison, wild boars, barasingha (Eastern swamp deer), leopards, tigers, Jackal, hoollock gibbons, capped langur, rock python, and monitor lizards. Although tigers inhabit this park, it is quite difficult to sight one.
Kaziranga National Park has more than 483 species of the birds. 18 of them are globally threatened species. Because of the varied habitat types that the Park comprises off as also of the strict protection accorded to them, birding is very special in Kaziranga. The Eastern range is very special for water birds such as Falcated Teals, White Eyed Pochard and Spot billed pelican. For Grass land birds the Western range is ideal. The Bengal Florican can be seen during the Elephant ride in this range.
The nearby Panbari Reserved Forest is good for primates such as Hoollock Gibbon and Capped Langur and also woodland birds such asYellow-vented Warbler, Great Hornbill, Dark necked Tailorbird, Grey-bellied and Slaty-bellied Tesias.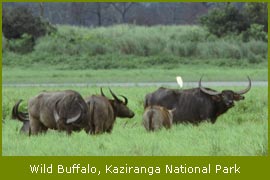 Other interesting birds include Green-backed Heron, Changeable Hawk-Eagle,Pied and Northern Harriers, Lesser and greater Adjutants, Black-necked Storks, Grey-headed and Pallas's Fish-eagle (common), Swamp Francolin common), Grey-headed Lapwing, Black-bellied tern, Black-breasted Thrush, Yellow-naped Woodpecker, etc
Other Attractions:
Kaziranga Wildlife viewing
Kaziranga is special because there is a good chance of viewing the animals for which it is famous: rhino, elephant and wild buffalo in a days outing.
The elephant ride is an hour's affair and is conducted in the early hours: 5.30 am. and 6.30 am. There are (as mentioned above) three ranges and you can travel by Jeeps.
No walking in the Park is allowed. It is dangerous to walk in rhino-bearing areas, as also because of the elephants.
In Panbari RF you can walk along with an armed forest guard.
How to be at Kaziranga National Park:
How to Get there
Air :
The two most convenient bases for getting to Kaziranga are Jorhat and Guwahati. Jorhat, 97 km from the sanctuary, is the nearest airport, but Guwahati's Borjhar Airport, 239 km from Kaziranga, is connected by more flights.
Rail :
The nearest railhead is Furkating, situated 75-km away from Kaziranga National Park.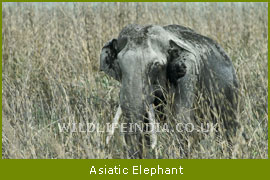 Road :
The main gate for Kaziranga Wildlife Sanctuary, at Kohora on the NH-37, consists of a handful of cafes and a small local market. ASTC and private buses stop here on their way to and from Guwahati, Tezpur and Upper Assam.
SUGGESTED TOURS
»
Kaziranga Weekend Getaway
»
Jewels of East
»
Kaziranga & Sunderbans National Park
SUGGESTED RESORTS
»
Wildgrass
KAZIRANGA NATIONAL PARK RESERVATION FORM