Photography Safari with Dennis Jones


Duration : 22 nights / 23 days
Places Covered : Ahmedabad - Zainabad - Udaipur - Jodhpur - Jaipur - Bharatpur - Agra - Varanasi - Khajuraho -Bandhavgarh - Kanha - Mumbai
| | | |
| --- | --- | --- |
| Trip I.D. : DJ | Duration: 22 Nights / 23 Days | Theme: Wildlife & Cultural Photography |

Fri 5th Feb - Ahmedabad
Today we depart Australia flying with Singapore Airlines on flight SQ232 departing Sydney at 12.45pm. Arrival into Singapore is at 5.45pm, with the connecting flight (SQ530) departing at 7.30pm. Arrival into Ahmedabad is scheduled for 10.30pm (local time - India is 5½ hours behind Sydney time).
After clearing customs we will be transferred to our local hotel for our overnight stay.
Overnight at the Comfort Inn President, Ahmedabad.
Sat 6th Feb & Sun 7th Feb - Rann of Kutch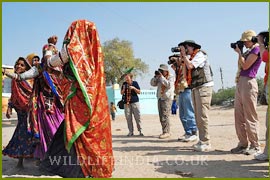 After breakfast we will transfer by road from Ahmedabad to The Rann of Kutch, a journey of around 3 hours. The Rann is part of the great Thar Desert and part of it has been established as a wildlife sanctuary. Here we will stay in very comfortable traditional accommodation (called "Koobas") built from mud (with your own en-suite), at Desert Coursers Camp, Zainabad. The village of Zainabad is right on the edge of this massive desert salt pan. Your host, Mr Dhanraj Malik, happens to be heir to the throne of the local traditional royal family. His charm, outstanding knowledge and enthusiasm for the environment and wildlife, plus his pleasure of taking you to visit the local people, will make your stay here a very rewarding experience. You have now entered into an area where to see a tourist is a rarity, and the local Gujarati villagers will welcome you and love having their photos taken !
The Rann of Kutch sanctuary was designed to help preserve part of the vast array of desert wildlife. This area is home for around 1000 Asiatic Wild Asses - an endangered species with a mundane name, but a striking beauty. Locally these animals are called "Ghud-khur". The Ghudkhur live in an area which in summer suffers appalling heat and aridity, and during the monsoon it floods to a depth of around 40cms, limiting the animals to small mounds or "bets".
Apart from the wild asses, other sightings may include blue bull, Indian gazelle, wolf, jackal, Indian and desert foxes, desert and jungle cat. Dry land birds like the sand grouse, houbara bustard, desert wheatear, steppe eagle and montagu harrier, can be seen in winter. During your stay here, you will have opportunity to visit the vast wetlands, which usually teem with birdlife at this time of year. These lakes and marshlands attract flamingoes, pelicans, cranes and ducks, in large flocks. You can practice sneaking up to the edge of the wetlands to get great photographs. The number of cranes that migrate to this area at this time of year make for spectacular sights as they swirl in their thousands into glorious sunsets. A photographer's delight. Your time here will be filled with visits to the salt flats of the Rann or rivers that run off it, interspersed with stops at local villages. Gujarat is a face of India definitely worth discovering and not commonly experienced by the average traveller. Afternoon game viewing and village visits. Overnight at Desert Coursers Camp, Zainabad.
Mon 8th Feb - Rann of Kutch
Exploring the Rann of Kutch - Game viewing and local village visits
Overnight at Desert Coursers Camp, Zainabad
Tue 9th Feb - To Udaipur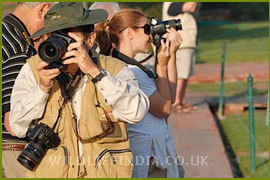 This morning we depart from Zainabad and travel north into the hills of southern Rajasthan. The scenery on this journey changes dramatically as we progress towards Udaipur. The city of lakes "Udaipur" is a lovely blend of water and lush green hills. Its palaces are straight out of a fairy-tale book.. lakes, forts, palaces, temples, gardens, mountains and narrow lanes with market stalls, re-live the reminisces of a heroic past, valor and chivalry. Their reflection in the placid waters of the Lake Pichola is picturesque.One of the highlights of your stay here will be that you are staying in the Fateh Prakash Palace. It is a royal retreat tastefully decorated in traditional style with antique fixtures. The palace has been restored to its pristine glory with modern amenities, offering you an experience originally reserved for royalty. The Palace provides breathtaking picturesque views (and photographic opportunities) of Lake Pichola, Jagmandir, Lake Palace and the Sajjangarh Fort. It offers a soothing break from the rigors of Udaipur city life. The grand Durbar Hall, the exclusive Gallery Restaurant and the dazzling Crystal Gallery complete the royal repertoire of Fateh Prakash Palace.
Overnight at Fateh Prakash Palace, Udaipur
Wed 10th Feb - Udaipur
In the morning we will be guided through an overview of the city, its palaces, ramparts, lake views and artist colonies. Just the life on the streets surrounding our hotel area will be an amazing start to the day.
After lunch we will visit the Shiv Niwas Palace. It was built at the turn of the century as an adjunct to the royal residence Shambhu Niwas, which is a somewhat incongruous, western looking building. Shiv Niwas is its antithesis, with its curved Chajjas or drip stone roofs, and its arched chambers that were opulently appointed with a number of white halls and white kiosks. Later in the afternoon we will take a boat ride on the lake (this is subject to the water level of Lake Pichola at the time) which will include a visit to the Jag Mandir Palace, and a close up viewing of the Lake Palace Hotel in the late afternoon light. Overnight at Fateh Prakash Palace, Udaipur
Thu 11th Feb - To Jodhpur
This morning we depart Udaipur for the journey to Jodhpur.
En-route we will stop at Ranakpur, not only an appropriate place to break the journey, but a world famous religious and architectural site. Ranakpur is widely known for its marble Jain Temple, and for a much older Sun Temple which lies opposite the former. The renowned Jain temple at Ranakpur is dedicated to Adinatha. Light colored marble has been used for the construction of this grandiose temple which occupies an area of approximately 60 x 62 meters. The temple, with its distinctive domes, shikhara, turrets and cupolas rises majestically from the slope of a hill. Over 1400 marble pillars, carved in exquisite detail, support the temple. Idols face all four cardinal directions. In the axis of the main entrance, on the western side, is the largest idol. The construction of the temple and quadrupled image symbolize the conquest of Tirthankara of the four cardinal directions and hence the cosmos.
The dating of this temple has been a matter of controversy but it is largely considered to be anywhere between the late 14th to mid-15th centuries. Ranakpur's temples provide numerous photographic opportunities.
We travel on to Jodhpur, the famous "Blue City" - called this because of the blue paint on the houses. The "old Jodhpur" city, founded in 1459, is surrounded by a 10 km long wall with eight gates serving as entrances. The new city is settled around this walled area. This city was on the silk route of the 16th century and hence was host to many travellers.
On arrival at Jodhpur we will check-in at our hotel. Well, it's not just another hotel !!, it's the Ajit Bhawan. Bestowed with the pride of being the first ever "heritage hotel" in India, Ajit Bhawan is ideally situated in the desert city of Jodhpur. Home to the royal family ofJodhpur, the lavish palace was exclusively built for Maharaja Ajit Singhji, the younger brother of Maharaja Umaid Singhji of Jodhpur. An amazing collection of the family's vintage cars is on display. A modern heritage hotel today, Ajit Bhawan continues to serve as the residence of the Jodhpur royal family, while welcoming visitors at the same time.
Depending upon the time of arrival there may be an opportunity to journey to the city centre and discover the city coming alive in the early evening. The late light creates eerie tones in the alleyways and city squares. Overnight at Ajit Bhawan, Jodhpur.
Fri 12th Feb - Jodhpur
The highlight of this morning will be a guided tour of the famous Sardar markets. This travel-writer's description may tempt you. "We elbow our way through the chaotic crowds of Jodhpur's Sardar market. A spruiker stands on his clothing cart waving his arms as he launches into a noisy spiel; next to him old women in colourful saris have rows of multi-coloured bangles for sale...
In one corner a roadside barber sits cross-legged on the footpath giving his client a careful shave while the market dentist proudly displays his newest equipment - old-looking pliers, tweezers and mouth plates of all sizes - hoping to snare his next patient. We turn into a narrow lane and find ourselves in the fresh vegetable section, where shoppers haggle over the price of aubergine, fresh peppers and an array of local produce. In the Maharaja spice shop, spice merchant Sandeep Chouhan pulls out a photo album. Flicking through, his chest swells with pride as he shows us photographs of Greg Chappell, the Test great and former Indian national cricket coach. "His wife is my No. 1 customer," Sandeep says as he plunges into his sales pitch. Further down the laneway are more spice shops, with colourful open metal containers piled with earthy shades of ochre, yellow and brown. The Sardar market is one of Jodhpur's must-sees." This afternoon you will be able to visit other areas of the city and then mid-afternoon its off to Mehrangarh Fort, a perfect location for seeing and photographing the sunset over the "blue" city. The tower fort known as Mehrangarh rises 120 meters above the plain. On a clear day one can even see the fort of Kumbalgarh which is 124 kilometres away. You will be able to explore the splendid palaces located in the fort, noted mainly for their exquisitely carved sandstone latticework. There is also an interesting museum within the fort with its collection of royal heirlooms ranging from superb antique weaponry to elephant howdahs of different types to ornate cradles for royal babies. Another exhibit depicts various styles of turbans worn in Rajasthan - with about a hundred of them on display.
We explore the fort till closing time, and then wander down into the city on the footpath that carries us through hustling and bustling Jodhpurians, as they finish their busy day. Overnight at Ajit Bhawan, Jodhpur
Sat 13th Feb - Jaipur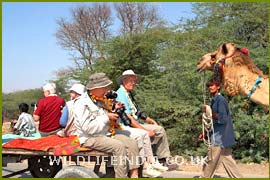 Early this morning we leave for Jaipur.
Jaipur, popularly known as the "Pink City", is the capital of Rajasthan state. The kingdom of Jaipur was originally known as Amber, which was also the name of its ancient capital (situated eleven kilometres from Jaipur). Its history can be traced backed to the 12th century. In the 1720's Sawai Jai Singh II, began to build the new city of Jaipur. The city turned out to be an astonishing well-planned one based on the ancient Hindu treatise on architecture, the Shilpa Shastra. Different streets were allotted for different professions such as potters, weavers, dyers, jewellers and bankers. Jaipur has a variety of manufacturing industries. It is especially known for its arts and crafts, jewellery, enamel work, hand-printed fabrics and stone sculptures.
We arrive in the early afternoon and check in at our hotel. During the afternoon we will undertake a guided walk through some of the retail areas of this famous trading city. We shall stay on in the city centre as evening falls to watch the transformation of the retail district into sidewalk bazaars.
Your overnight stay with be in the Alsisar Haveli, built in 1892 and a fine example of Rajput architecture.
Overnight at Alsisar Haveli, Jaipur
Sun 14th Feb - Jaipur
This morning we will visit the ornate Hawa Mahal (Palace of Winds).
It is a delightfully idiosyncratic five-tier composition of arches and balconies. We will then travel on to explore the area around Amber. The Amber Fort is superbly located and protected by the wild Aravali Hills on all sides. Originally built in the 11th Century, it was extended in the late 16th Century.
We return to Jaipur for lunch, after which we will undertake a city tour which will include the City Palace and the famous observatory, Jantar Mantar.
The early evening will once again change the face of the city. Overnight at Alsisar Haveli, Jaipur
Mon 15th Feb - Bharatpur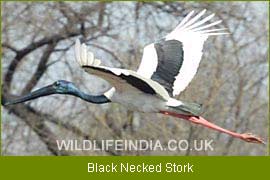 We depart from Jaipur for our road journey to Bharatpur, arriving in time for lunch. On arrival we check-in to the Birders Inn (the Inn is run by an avid birder and naturalist of considerable repute, who grew up in the area and still makes his home there). This afternoon we will undertake game-viewing in the Keoladeo Ghana Bird Sanctuary. This will be on trishaws and we will be accompanied by natural history experts who will help us discover this Eden. While telephoto lenses will be needed for the birds and animals, a wide angle lens for landscape shots of these wetlands will be useful. The park is only 11 square miles in area however over 350 species of birds have been recorded here, with over 120 nesting species. The heronry, one of the best in the world, can have up to eight different species breeding in a single tree.
The reserve overflows with huge flocks of birds: painted storks, open-bill storks, white ibis, spoonbills, various egrets, herons, and shags.
In addition to these flocks it is possible to see three species of crane, three species of pelicans (spot-billed, white, and Dalmatian) plus huge concentrations of waterfowl and waders. Keep an eye out for carnivorous turtles in the waters.
Mammals include wild boar, mongoose, spotted deer, nilgai, sambar, and even otters. Rock pythons are also often seen sunning themselves. One of the joys of this park is that you can walk close to the wildlife and photograph at different angles.
Overnight at The Birders Inn, Bharatpur
Tue 16th Feb - Agra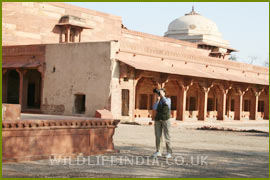 This morning we will depart early from our lodge and undertake a rowboat ride on the rich wetlands of Bharatpur. This time of day is truly amazing, with birds and mammals moving amongst the morning light and mists. The photographic opportunities are endless. After a late breakfast we depart for Agra and on the way we visit Fatehpur Sikri, with a guided tour of this amazing complex of buildings. Larger than London in its day, it was abruptly abandoned when the wells went dry.
We drive on to Agra, arriving around lunch time.
After lunch we visit the Agra Fort and its Jasmine Tower, an exquisite octagonal turret from which the Mughal ruler Shah Jahan would watch the workmen's progress on the Taj Mahal. Views of the Taj Mahal from the Fort are amazing. We move on to see the rarely visited Itmad-Ud-Daulah's Tomb, often referred to as the "baby Taj". Along with the main building, the structure consists of numerous outbuildings and gardens. The tomb, built between 1622 and 1628 represents the transition between the first phase of monumental Mughal architecture - primarily built from red sandstone with marble decorations, as in Humayun's Tomb in Delhi and Akbar's Tomb in Sikandra - to its second phase, based on white marble and pietra dura inlay - most elegantly realized in the Taj Mahal.
As the sun begins to go down, we will continue along this northern bank of the Yamuna River to a spot directly opposite the Taj known as the Mehtab Bagh (Moonlight Garden). At this beautiful site we will watch the sun go down over the river and the Taj.
Overnight at Utkarsh Vilas Hotel, Agra
Wed 17th Feb & Thu 18th Feb - Agra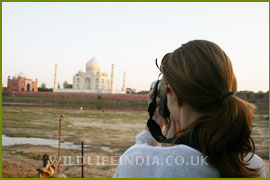 This morning we rise early in order to see the wonderful morning light on the jewel in the crown, the Taj Mahal. The softness and angle of the light at this time makes photographing the Taj a joy.
The Taj Mahal, one of the world's finest architectural wonders, was built by Shah Jahan in memory of his queen Mumtaz Mahal. The monument usually exceeds visitors' expectations. The beauty, serenity, and symmetry leave a lasting impression as do the shrine's walls, embedded with emeralds, jaspers, sapphires, and other precious stones. After having seen the jewel in all of its splendour we return to our hotel for a late breakfast. The rest of today is at leisure, as we have a busy travelling day tomorrow. For those who are interested, Agra affords some fine shopping opportunities and our guides will be available to recommend reputable establishments. Overnight at Utkarsh Vilas Hotel, Agra
Fri 19th Feb & Sat 20th Feb - Varanasi
This morning we have an early departure from Agra and drive to Delhi for our 1.00pm Kingfisher Airlines flight IT602 to Varanasi.
Varanasi, also known as "Benaras", is one of the holiest pilgrimage sites in India. Situated on the banks of sacred river Ganges, Varanasi has been a centre of learning and civilisation for over 2000 years. Besides being a pilgrimage centre, it is considered an auspicious place to die, ensuring an instant route to heaven. Apart from Hinduism it is also an important pilgrimage centre for Buddhists as it was at Sarnath (10 km from Varanasi), Lord Buddha gave his first sermon after enlightenment. One of Varanasi's claims of fame is that it is the only city in Asia with three Universities.
Early this evening we visit the Ghats on the banks of river Ganges to see evening prayers being performed with lighted lamps cast on the river's surface. (Flashguns and tripods are recommended)
Overnight at Clarks Hotel, Varanasi
Sun 21st Feb - Varanasi - Khajuraho - Bandhavgarh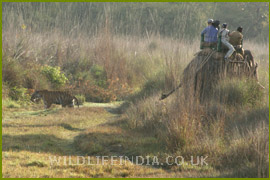 This morning we undertake a dawn boat ride in the Ganges, followed by a walking tour ofthe area of the ghats.
After a late breakfast we will check-out of the hotel and proceed to the airport for our long journey this afternoon. Our flight to Khajuraho is on Jet Airways (flight 9W723), departing at 12.20pm.
We arrive in Khajuraho at 1.00pm and undertake a short tour of the Western Group of Temples before departing for Bandhavgarh. Khajuraho is the site of one of the oldest temple complexes in India, but because of its location, it is not always visited by tourists. With 20 of its 85 original temples surviving today, Khajuraho still fascinates all with its exquisitely carved stone temples built by the Chandela Rajput between 950-1050 AD.
The "Western" group are considered the more magnificent structures, and they date back to between 930-950 AD. Apart from the magnificent construction and religious significance, visitors are often fascinated by many of the carvings, which are done in the period's "erotic" style (which seems to attract most visitors to take numerous photos of the intricate carvings). Our late afternoon drive from Khajuraho will see us arriving in Bandhavgarh around dinner time. Overnight at Nature Heritage, Tala.
Mon 22nd Feb & Tue 23rd Feb - Bandhavgarh National Park
This morning we undertake our first gameviewing in Bandhavgarh National Park.
Set among the Vindhya Hills in the state of Madhya Pradesh, Bandhavgarh consists of 168 square miles of Sal and mixed forest with large stretches of bamboo and grassland to the north. There is a dramatic natural fort at the park's center, rising 1,000 feet above the surrounding countryside. Wildlife viewing is by open jeep and elephant back (subject to patrols by the park authorities, which take precedence over tourist rides). Afternoon jungle excursion in the Bandhavgarh National Park Overnight at Nature Heritage, Tala.
Sun 9th Mar - Bandhavgarh National Park
Morning and afternoon jungle excursions in the Bandhavgarh National Park.
In addition to tigers, and the close encounters with various elephant, you are likely to see chital, sambar, muntjac, nilgai, chinkara, chausingha, sloth bear, wild boar, rhesus macaque, black faced langur and leopard. There are also more than 275 species of bird found here.
Overnight at Nature Heritage, Tala.
Wed 24th Feb - Kanha National Park
This morning we depart Bandhavgarh and travel south to Kanha National Park. Kanha's sal and bamboo forests, rolling grasslands and meandering streams stretch over 940 sq km in dramatic natural splendour which form the core of the Kanha Tiger Reserve created in 1974 under Project Tiger. The park is the only habitat of the rare hardground Barasingha. Kanha National Park is one of the best known tiger reserves in the country and one of the best areas for tiger sightings. Over 120 tigers are found in this Park. Other animals like common langur, sambar, chital, barking deer, blackbuck, wild boar, and the Barasingha are easily seen in this Park. Other rarer sightings include, gaur (or Indian Bison), wild dogs, jackals and leopards. The Park supports over 200 species of birds.
Afternoon jungle excursion in Kanha National Park.
Overnight at Tuli Tiger Resort - Kanha
Thu 25th Feb - Kanha National Park
Morning and afternoon jungle excursions in Kanha National Park.
Overnight at Tuli Tiger Resort - Kanha
Fri 26th Feb - Kanha National Park
Morning and afternoon jungle excursions in Kanha National Park.
Wildlife viewing is by open jeep and elephant back. Since most animals, including the tiger, have little fear of elephants or the people mounted on them, this mode of transportation is ideal for wildlife viewing - we anticipate that we will have the opportunity to have a ride on the elephants, however (as in Bandhavgarh) these animals are used for patrols by the park authorities and this takes precedence over tourist rides. Overnight at Tuli Tiger Resort - Kanha
Sat 27th Feb - Nagpur - Mumbai
We depart mid morning for the regional centre of Nagpur where we joining Air Deccan's 3.00pm flight to Mumbai. In Mumbai we join our onward flight.
Photography Safari with Dennis Jones (Trip I.D. : DJ Feb 08) Enquiry Form