WILDLIFE TRIP REPORT
---
PART 2 : Bandhavgarh Trip
June 7th to June 10th
---
BANDHAVGARH (Jun 7-Jun 10)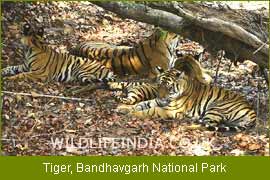 For our visit to Bandhavgarh Park we stayed at the Nature Heritage Resort. It was a 5-10 drive to the park. Accompanying me was as Manoj Sharma of INT and architect Anand Dhote.
NUMBER OF PASSENGERS IN GYPSY THROUGHOUT TRIP TO BANDHAVGARH (Jun 7-Jun 10): 5 MYSELF.MANOJ, ANAND, DRIVER (GUDDU) AND GUIDE.

FIRST JUNGLE EXCURSION (Jun 7th) AFTERNOON
1.Depart heritage resort at 16.00 arrive Bandhavgarh park 16.10.
2.Route taken was number 2. Name of the driver for the whole duration of our visit to the park was Guddu, who has born in Tala and had spent his whole life living with wildlife. His father is a mahout as well as a professional wildlife expert and photographer who was fortunate enough to work for the likes of the BBC. We were told that in the past there has been as many as 52 gypsy's in the park at any onetime but this time only 6 were in operating. The park is split into tourist area and known to have 22 tigers and 43 tigers in Non Tourist area a total of 65 Bengal tigers in 425 sq km of park area. Here this time of year we saw lush green trees totally different setting and outlook compared to Ranthambore with its dryness, Bandhavgarh was almost the total opposite.
3.On this drive main highlights was the rare sighting of a sloth bear, which sat right in front of us on the road.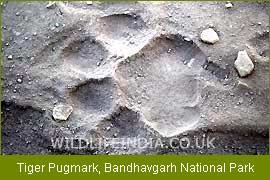 We watched its movements for almost 5 minutes until it ran away in to the jungle forest out of sight. Seeing some prehistoric caves dating back to 10 AD part of Bandhavgarh fort caves. The caves and trees to the fort is undoubtedly one of the central beauties of the park. First time ever for me to see a feather falling off from a hawk eagle.
In the later part of this trip we managed to see an elephant camp with two elephants one female and male who couldn't live without each other and both were eating barks from the tree stumps. From lower ground we could one of the main watchtowers to the fort. No tiger was seen this afternoon however we were lucky enough to have some pugmarks of a tiger cub.
Departure 06.45
Animals seen on this afternoon drive were: Wild boar, barking deer, sloth bear, Indian fox, stork, rat snake, peacock, langur, chital, sambar, paradise flycatcher, hawk eagle, but no tigers.
JUNGLE EXCURSION 2 (Jun 8th) MORNING
1.Depart 05.00 heritage resort arrived at park at 05.10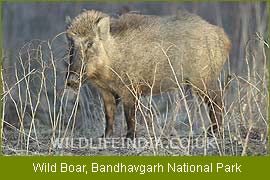 2.First sighting today of tigeress around 06.15, second sighting around 06.35 of another tigeress, possibly pregnant, in grasslands near Sidh Baba's samadhi. This tigeress was spotted after we heard a chital call. Soon after we could see that two elephants with tourists surrounded the tigeress. We were in the jeep at the time in the distance and only caught little glimpse of tigeress, on hathi however view must have been great, at first tigeress was moving towards the road which formed part of our route but it remained in the grasslands area. We viewed from a distance a courthouse belonging to one of the rajas to the park. Today first time we saw scratch marks of tiger - a way to mark his territory. Departure 08.45.
Lakes seen: Gopalpur Talab
Animals seen on this drive: Cricket echoes, paradise flycatcher, wild boar, Bengal tigers, sambar, crested serpent eagle, hornbills, kingfisher, peacock, and spur fowl.
JUNGLE EXCURSION 3 (Jun 8th) AFTERNOON
1.Departure 16.30 heritage arrive 16.40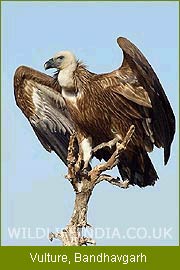 2.We heard chital call as we entered the park but no sign of tiger. On this drive also route 2 we drove to the highest point of the park, climbed a little and the most magnificent view of the park. First time we saw some of the villagers on the park boundaries(buffer zone) separating tourist and non-tourist area. Guddu our driver asked one of the villagers if they saw a tiger recently and the name, which came up in their conversation over and over again was B2 the male dominant tiger whose territory is really the whole park. It strays from tourist and non-tourist when it likes. Fortunately here many cattle are not killed but in many other parks they are killed and a result there are revenge killings on the tigers when villagers are not compensated.
This afternoon we did see a few tiger pugmarks but could not tell if they were fresh or not, may have been from the morning sightings. Not many flowers can be seen during dry season but a few orchid flowers were blossoming on the trees of the forest. First time to see chital fighting with their horns locked, besides a Gopalpur Talab (an important water-point).
On higher ground we could a vulture's nest and its bright white color made from its own droppings. Just about we were returning we stumbled across a group of vultures eating a carcass of either chital or some sort of deer.
This indeed was a rare sighting. Departure 19.05
Animals seen on this drive: Wild boar, Red Jungle Fowl, langur, Crested Serpent eagle, chital, sambar, stork, Indian fox, vultures, but no tiger.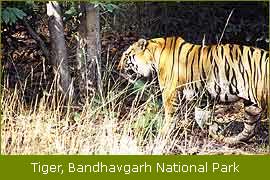 JUNGLE EXCURSION 4 (Jun 9th) MORNING
1.Departure 05.10 arrival 05.30
2.Today main highlights were the prehistoric caves of Bandhavgarh fort. First time we actually went inside these old caves and to my amazement there must have been hundreds of bats there it was a bit scary experience as I had never encountered this before. The first tiger sighting today must have been around 06.00 am - male cub lying on some rocks. Later it walked on nearby roads, growled from time to time and was calling for his mother and family. However most cubs here were pretty much independent compared to Ranthambore cubs. 06.54 sighting of a female tiger cub.
The biggest highlight today though was first ever sighting of B2 at 07.47 that surprised us as it came out of deep. It was the best view of our visit so far. At first we were sure that it was the tigeress we saw earlier but as it approached the road we could see more clearly it was more bulkier tiger,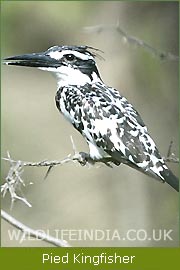 clearly it was the king of this park, in its slow stride it was a magnificent creature and was a great joy to see him as he walked from the right side of us on the road and then to the far left. The roar it gave was the most awesome sound of authority over all other jungle creatures and ecosystem. It was clear in my mind now that tiger is definitely head of eco system, after seeing b2. The reason why we couldn't see any nilgai in Bandhavgarh is that they could only be seen on the periphery of the park.
Departure 09.00
JUNGLE EXCURSION 5 (Jun 9th) AFTERNOON

1.Depart heritage 16.30, arrive at park 16.45
2.Main highlights today was a clear sighting of the same tigeress we had seen on the second drive it was now on left side of our route. This was at 04.45. It slowly came down from the rocks and approaching the marshlands there was a chital in the line of sight of the tigeress. We could see it looking straight at it, at that instance we could see the fright of the chital as it ran off into deep jungle out of our sight. As soon as more gypsies arrived on the scene the tigeress disappeared into deep grass land area.
Depart 18.45
Animals seen today: Forest Elephants, wild boar, chital, peacock, stork, cuckoo calls, sambar, spur fowl, Bengal tigers, squirrels, Red Jungle Fowl, Kingfisher, bats, big herd of chital.

JUNGLE EXCURSION 6 (Jun 10th) MORNING
1. Depart from Heritage resort 05.00 arrival at park 05.10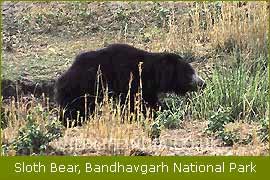 2.We took the jeep on route b today.
3.In area near Sidh Baba's samadhi there was much activity within the first couple of minutes. It was around 06.00 we stumbled across female tigeress on our left. This time we had a much longer and clear view of her. We could see two elephants with their mahouts were following her tracks in the high grasslands for 20 minutes or so in this area we heard chital, hathi and langur calls, suddenly we were told by the mahout on hathi that the tigeress had killed a langur monkey. Just 10 yards away from the tigeress we saw a head peeping out from the grass and out comes the mighty B2 - the big male tiger, later he makes scats and leave his scent on a tree by urinating on it.
Next thing, which amazed us all was, on the opposite side a sloth bear was slowly coming down from hills alongside our route just as B2 was. To actually see B2 and sloth at the same time coming from left and right was extremely rare sighting indeed. From the right side the sloth bear believed to be a female crosses the road in front of us to left side and into the pond to cool off, but the female bear was now in B2's territory.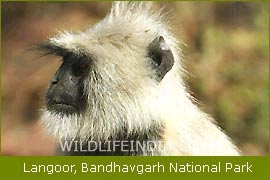 Sloth bears have sharp claws and can be a quite match for tiger, but because B2 is heavy in size one could never tell who would succeed if a fight were to occur. The sloth a few seconds after entering the pond runs off into deep forest as it sees B2 on its left, a sloth does not know that a tigeress with cubs is also in the area therefore 2 tigers versus B2 wouldn't be a fair match. B2 on the other hand does chase off sloth bear but the bear did most of the running, after the bear's disappearance b2 comes down into the marshland area. We did try to get a glimpse of the cubs on the hills by hathi, which were seen by another mahout, but we were unfortunate to have missed them. Later B2 came on road many times; we had taken some great shots by camera and video camera. Finally after its long stroll B2 had a nap.
The tigeress with cubs late r appeared on the scene at 08.45when we were returning back from the hills to see her cubs. She was lying in her cool spot of the marshlands, we could see by her expression though that she was either half sleep or didn't like us around her, it looked quite saddened. I can definitely say that today's drive was the best of all-just because of the rare sightings and it was like something from a movie never been so excited in my life.
Animal seen on this our last drive of the trip: Peacock, stork, spur fowl, Red Jungle Fowl, chital, wild boar, sloth bear, Bengal tigers, langur monkeys.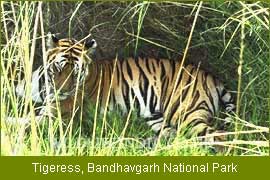 The most popular parks visited are Ranthambore, Bandhavgarh, Corbett and Kanha simply of there sheer beauty different landscapes and good chance to see tiger. Next time we visit India we will visit Corbett and Kanha National parks look out for our report and photo gallery in future.
If want to know a bit more about Ranthambore, Bandhavgarh, Corbett or Kanha parks which saveindiastigers.co.uk will eventually visit go to www.wildlifeindia.co.uk, it is here you will also find some of the images that we have taken on this trip. W e was quite surprised to have not seen any male tigers in Ranthambore and agree that it is under red alert. In Bandhavgarh we were happy with the number of sightings we had of tiger on our drives and agree that accommodation was great at the Ranthambore Regency Hotel and Nature Heritage resort. Why not take this trip yourself with Indian Nature Tours contact Manoj Sharma of www.wildlifeindia.co.uk.
It should be a footnote:
Regarding tiger census this was last done on 25th May 05, we were not aware that most of the census in the parks were done annually whereas we had impression this was done after a few years or so.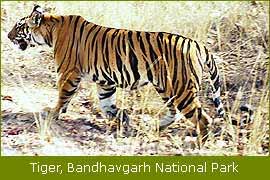 Prior to 25th May the Prime Minister of India Dr. Man Mohan Singh visited Ranthambore National Park for two days to get a better picture of what problems were facing the national animal and saw his first tiger in the wild.
According to some leading magazines of India, the problems being faced by the National Parks in India are generally management related. Due to some recent adverse reports featured in the leading dailies, the Government of India was forced to initiate remedial action to save this magnificent creature. The Prime Minister of India called a meeting; in this he created National Wildlife Crime Prevention Bureau Unit to see problems confronting tiger and a special Task force to report on Project tiger. The report of this task force is still awaited and saveindiastigers will bring it you as soon as it is out.
» Click Here For Ranthambore Trip ( June 02nd to June 06th )